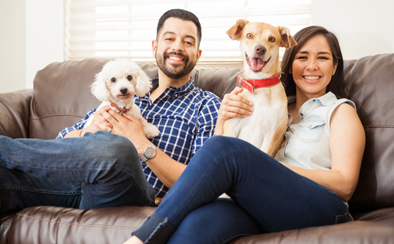 To be a successful landlord, you need to give your tenants what they want.
Think of it this way: You wouldn't want to be in the surfboard business in the Midwest, but you might in a Southern California beach community. It's the same for the landlord business. Buying rental property is only one part of the equation for success. If your property is as appealing as that Midwestern surfboard, it's not doing you much good.
1) Air Conditioning:
Whether you live "up north" or "down south" having a solid air conditioning unit is a major luxury none of us want to live without. Renters are likely to inquire about this right away as having a solid air conditioning system has often polled to be the #1 amenity renters wanted to see in their potential new homes.
2) Parking:
If you live in a busy downtown apartment building or in a cozy little nook in the woods, you need good parking. Anyone who's ever had to park on the street can tell you, it's no fun coming home to find the only available space to park your vehicle is 3 blocks away! Assigned parking always gives renters the piece of mind that they will have a safe and secured spot to park, and don't underestimate the value of a good portico or garage to really make them feel at home.
3) Pet Friendly:
I know what you're thinking, "Ugh, Pets! what a nightmare!'' Well, I urge you to reconsider, A poll done by PR Newswire in 2017 claims that nearly 87% of renters polled listed pet friendly environments as one of their top priorities in searching for a new home. With the proper deposits and securities in place, allowing some form of pet ownership is going to open wide the doors or rental opportunities you will see coming your way! Everyone has a pet, might as well get used to it, also pet owners also tend to stick around longer as it's not always easy to find good accommodations that allow them to be happy at home with their pets.
4) Well Maintained:
A well maintained environment is one of the simpler pleasures you can ask for when renting a new home. Knowing you won't have to be concerned that proper upkeep of your living space is being maintained and rightly cared for is a comfortable feeling. A system of proper home maintenance is an integral part of keeping your rental property as attractive and safe as it can possibly be!
5) Washer and Dryer:
Who enjoys hauling 2 weeks worth of clothes down to your local laundromat? Not me! Having a washer and dryer unit on your property is sure to attract new renters, and if you live in an apartment building you want to know there are facilities on grounds where you can do your laundry safely and quickly, without having to load it all into the trunk of your car.
6) Building Amenities:
If you are looking to own and rent an apartment building, take note of all the building's amenities. People enjoy having swimming pools, a clean safe exercise area, dog walking paths, good storage space etc. Most places offer some if not all of these to their renters so make sure your property has plenty of up-to-date features to offer any and all potential renters at the start.
7) Secured Area:
Having a well lit parking area, security patrols, gated environments, as well as any alarm of some type installed in the home, are all ways to offer your renters a safe and secure home to live in that they will feel comfortable in for years to come. Don't overlook the simple measure of making your property safe and secure for everyone.
8) Smart Features:
Today's renter is tech savvy, whether it be a central heating and air Nest thermostat that they can operate from their smartphone, or an electric car charging station, millennials are increasing in their demands that their next rental has some modernized features to take them into the next stages of their lives at home.
9) Hardwood Floors:
Remember the shag carpets we had when we were kids? Where are those carpets now? I'll tell you, they've been ripped up and thrown away so that we could all enjoy the glorious hardwoods underneath! Cleaner, easier to clean and just basically a standard feature that most renters are going to be looking for in their next home!
10) Deck or Patio:
Americans love celebrating the holidays with cookouts and get-togethers, what would these things be without a beautiful deck or patio to cook out, chill out and just enjoy the gorgeousness of their new homes environment and the great outdoors!? Having a nice outside living space is truly an attractive feature every renter will be looking for in their next home environment!