Chicago Property Management
Why Choose TruHaven Homes?
WHY HIRE A PROPERTY MANAGER?
Been transferred and think you may return?
Want to buy a bigger home and it's not a good time to sell?
Looking to diversify your investments and create passive income?
These are the reasons you would consider being a landlord. The next thought... the horror stories. You've heard them and they are terrifying. We make Landlordship possible without the stress and liability you are worried about.
Time. Experience. Value.
Time is the only thing we can't get more of. Tenant communication, maintenance needs, preventative maintenance, HOA communication, that all takes time. Do you have time to get 3 estimates for your new air conditioner that went out in the heat of summer? Your toilet overflowed this holiday weekend. Do you know what to do to get the water removed and keep your tenants/home safe? Your tenant is late with their rent or in default of their lease, what do you do? Who wants to do all of that? Who has the time? We do.
We have relationships that create value for you. We get priority service and pricing that you will not get on your own consistently. That value comes from vendors, experienced staff, attorneys, accountants and more.
We know the laws and stay up to date with changes as they occur. We are 100% Fair Housing compliant. We have been to court and know what to expect and what the process will be. We have taken care of homes just like yours 100's and 100's of times. Our experience is your armor.
Why go it alone?
Contact us today to get a management quote and we will be in touch shortly to discuss all your property needs.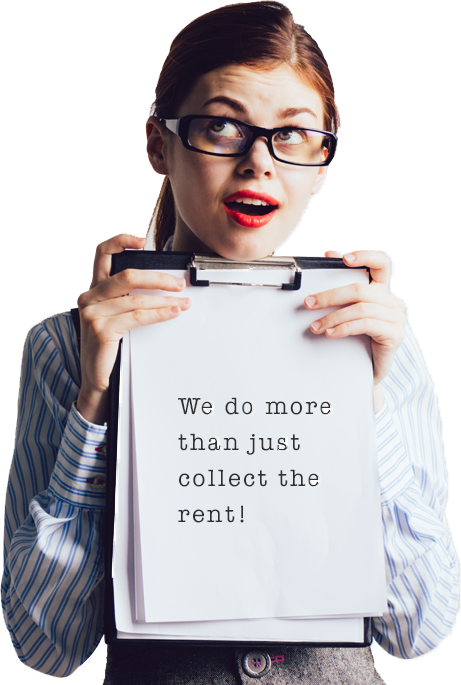 What we do as your Chicago Property Manager
Handle all tenant concerns and receive tenant payments
Work with HOA's and COA's for the best possible experience for everyone
Ensure all required maintenance is done in a timely manner by insured, background- checked vendors
Provide detailed monthly statements accounting for all income and disbursement
Disburse all tenant deposit refunds and supply required documentation
All collected funds are maintained in Broker's trust account
Thoroughly screen all prospective tenants including credit, rental history, criminal history and income verification in accordance with Fair Housing Laws
Conduct an interior survey of the property yearly, with a copy of the report and interior photos going to the owner via email, at NO EXTRA CHARGE
Prompt and frequent communication
We focus on quality- not quantity, providing personalized service for individual homeowners.
Manage My Home
Need professional management?
As professional Chicago Property Managers, it is our JOB to make your investment as profitable as possible, while helping to protect your home from tenant usage depreciation.
Marketing
Marketing is key to placing quality tenants. At TruHaven Homes, all of our properties are professionally photographed to maximize response and ensure great marketing for years to come. We custom write all marketing and upload to over 20 sites. Most of all we RESPOND. Responding promptly to add interest is the key to our success!
TENANT SCREENING
At TruHaven Homes we take Tenant Screening and Fair Housing Laws very seriously. It is our top priority and the difference between a successful leasing experience and a disastrous one. All the horror stories you hear, this is where they begin. Ask us about our processes and why we have only had to evict 4 tenants we have placed since 2009!
RENT COLLECTION
TruHaven Homes is Chicago's only Property Management Firm to consistently boast a 99.5% ON TIME rental process each month. Late Fees are not a profit center that benefit our Landlords. Our goal is 100% ON TIME rents every month!
SITE VISITS
We conduct site visits upon move-in and move-out, as well as prior to renewal, that include documentation and photos of the property's condition and ensure all maintenance issues are addressed in a timely manner.
MAINTENANCE
We have a prompt and organized system for reporting, resolving and communicating your home's maintenance needs, in a way that protects the landlord from future issues and/or litigation.
FINANCIAL REPORTING
At TruHaven Homes our state of the art software provides us with the tools we need to provide our Landlords with professional, timely monthly reports, as well as end of year reports your accountant will love!
About Chicago

Chicago, officially the City of Chicago, on Lake Michigan in Illinois, is one of the largest cities in the United States. As of the 2017 census-estimated population of 2,716,450, Chicago is the third most populous city in the United States after New York and Los Angeles, and the most populous city in both the state of Illinois and the Midwestern United States. It is the county seat of Cook County. Chicago is the principal city of the Chicago metropolitan area, often referred to as "Chicagoland." The Chicago metropolitan area has nearly 10 million people, is the third-largest in the United States of America, fourth largest in North America, and the third largest metropolitan area in the world by urban landmass. The city is also the birthplace of the skyscraper, and considered the most influential architectural city of the 20th century. Chicago saw the creation of the first standardized futures contracts at the Chicago Board of Trade; today its successor has evolved into the largest and most diverse derivatives market in the world, generating 20% of all volume in commodities and financial futures. Source From Wikipedia
Areas We Serve
Bannockburn
Grayslake
Gurnee
Hawthorn Woods
Highland Park
Highwood
Lake Barrington
Lake Bluff
Lake Forest
Lake Villa
Lake Zurich
Libertyville
Lincolnshire
North Barrington
North Chicago
Vernon Hills
Waukegan